1,000 Books Before Kindergarten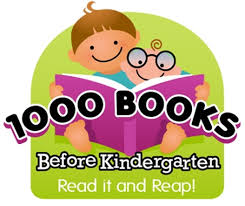 We invite you to participate in this FREE program which encourages you to read 1,000 books with your child before he/she starts Kindergarten.
The concept is simple, the rewards are priceless. Read any book to your newborn, infant, or toddler. The goal is to have read 1,000 books (yes, repeated books count) before your little one starts kindergarten. Sound too hard? It's not, really. If you read only one book each night, you'll have read 365 books in one year, 730 books in two years, and 1095 books in only three years, and many families read more than one book each day. The program might take you a few years, or only a few months-- it's self-paced and all depends on how often you read together. If your child starts kindergarten in only a few months, you still have time! Even if you don't finish the full 1,000, you'll have benefitted your child immensely. Studies show that reading aloud to children is one of the best things you can do to give them a jumpstart on life. Children who are regularly read to tend to have better focus, more spatial awareness, larger vocabularies, and increased literacy and comprehension. In addition, reading to a child is a wonderful bonding experience for you both.
The key is perseverance. Make it exciting. When your child reaches a milestone, offer a small reward (stickers, pencils, books, etc.)
How to participate:
Visit the library to pick up your 1000 Books Before Kindergarten packet. For every 100 books read, your child can pick out a FREE book to keep. By the time you finish the program, you'll have earned ten free books for your child's bookshelf, and we'll also give you both a free "I read 1000 books!" t-shirt to reward your accomplishment.
Read with your child! Keep track of the number of books read. Many parents also keep track of book titles in a journal, which makes a great keepsake. If you're able, keep a record of any book read to your child, including ones by teachers, daycare providers, siblings, grandparents, etc.
If you have more than one child, all can participate provided they have not yet started kindergarten. Make things more fun and read as a family!